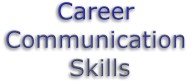 ---
FAQs
---
1. Q: Who is the course for?
A: It's for people who are interested in learning and using English communication strategies as required in the context of undertaking a job search.
Participants should have high-intermediate / advanced knowledge of English and an email account.
---
2. Q: Why is the course called "Career Communication Skills"?
A: The tremendous competition in today's labor market means that job seekers need a full palette of skills in order to present themselves to potential employers, as well as to professional colleagues ... and competitors. The ability to write a convincing C.V. and cover letter form a fundamental component of these skills: you need make sure your education, skills, and experience are presented to the potential employer in the most effective way possible.
If the first part of the application (submission of the C.V. and cover letter) is successful, the next skill demanded is a polished performance during the interview.
Finally, making a presentation, especially the first one, requires the development of skills that enable you to get your information across in a way that's engaging and "professional".
No one is born with these skills, and there's really no "best way" to perform any of the tasks. What's required is a bit of work, some persistence, and a firm commitment to your goal. Some basic language knowledge and cross-cultural sensitivity don't hurt either.
---
3. Q: Is there a theory behind the course?
A: Sort of. Many language teachers - including me - believe that creating an environment in which learners use the "target language" (in this case English) to perform tasks is one of the best ways to develop language skills. Research indicates that this process not only activates what they already know, but also facilitates the acquisition of new skills.
Some people call it "learning by doing". I would add "learning by being". If you are in an "unusual" environment, just being there will "push" you to do whatever is necessary to function well in it.
During this class we're creating an English-speaking environment dedicated to improving your English. Yes, you have to "do" something (work on the vocabulary, do the exercises and the assignments, etc.), but "being involved" is the essence of the process.
---
4. Q: And the Internet?
A: The Internet is both a library and conference hall. You can find information and discuss it with other people.
---
5. Q: Yes, but how can it help me learn English? Or even, can it really help me learn English?
A: It depends on you and your effort. Generally speaking, people who have a goal and work hard to reach it, reach it. If you want to improve your knowledge of technical English, and actively participate in this course, it seems pretty sure your English will improve. It's that simple. In this class the Internet will be a supplementary tool.
---
6. Q: How much do I have to know about computers and the Internet?
A: You have to have an email account somewhere, and know the basics of how to use it. Some experience "surfing" (using a www browser like Netscape Navigator© or Microsoft Internet Explorer©) is also necessary, because this is an English class, NOT a class in how to use the Internet.
Of course you will get the information you need to do the activities either from me, or preferably, from your classmates.
---
7. Q: How will we use the Internet in class?
A: Several different ways: to learn and practice vocabulary, to review and practice grammar, and to do some small "research tasks". You can also use it to help prepare your class presentation.
---
8. Q: Is this class recognized as a Wahlfach / Ergänzungsfach?
A: You can get a Schein from the ZEMS with or without a grade. You can also do a Prüfung. You have to inquire about the details from your Prüfungsamt.
There are three possibilities to complete this course "successfully".
1. A ZEMS Schein from the with no grade -> 0 ECTS points.
Requirements: 80% attendance / writing: CV and application letter / speaking: 3 interview questions and presentation; the assignments will not be graded.
2. A ZEMS Schein with a grade -> 0 / 6 ECTS points.
It depends on your Prüfungsamt; it's your job to find out about this!
Requirements: 80% attendance / writing: CV (25%) and application letter (25%) / speaking: 3 interview questions (15%) and presentation (35%)
3. A Prüfung -> -> 0 / 6 ECTS points (prüfungsäquivalente Studienleistung)
It depends on your Prüfungsamt; it's your job to find out about this! You have to bring the form.
Requirements: 80% attendance / writing: CV (25%) and application letter (25%) / speaking: 3 interview questions (15%) and presentation (35%)
The CV and application letter are to be based upon a "real" job ad that you find on the internet and send me before submitting your homework.
Please send me your CV and letter via email. I'll look through them and make some suggestions as to how I think you can improve them. To get a grade of 90% or higher, you have to correct your work based upon my suggestions / corrections
The interview questions and your presentation will be filmed. You will receive a copy of the video.
The presentation has to be at least twelve minutes long; it shouldn't be more than fifteen minutes.
---
10. Q: Can I ask more questions?
A: Sure. Please ask me directly by email at

, or if it's SUPER urgent, call me at 451 9533 before 10 p.m.
---
Updated 07.10.13